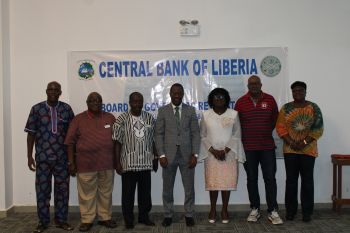 MONROVIA – April 2, 2021: The Board of Governors of the Central Bank of Liberia (CBL) renewed its commitment towards rebranding the Bank and pursuing policy objectives that would restore public trust and confidence in the banking system. The Board said the objective of the Bank can only be achieved when all staff work together as a team in a spirit of cooperation, dedication, and mutual respect.
At a three-day retreat convened in Harbel, Margibi County (March 26 – 28, 2021), the Board deliberated on presentations of the Amended and Restated CBL Act of 2020; the 2021 – 2023 Strategic Plan; an Overview of Risk Based Internal Audit; and CBL Operations, with emphasis on the Budget; and Corporate Governance, among others.
During the retreat, chaired by the CBL Executive Governor and Chairman of the Board of Governors, Hon. J. Aloysius Tarlue, Jr., the Board also adopted the Strategic Plan that would guide the operations of the CBL over the next three years (2021-2023), with specific focus on three pillars, which include Price and Financial System Stability; Payment System Integration and Digitization of the Economy; and Rebranding and Improving the Image of the CBL. Achieving the objectives, the Board noted, would require collaborative teamwork of the Management and Staff.
At the end of the retreat, Executive Governor Tarlue lauded the members of the Board, senior staff and personnel for their efforts towards the success of the Retreat and admonished all staff to work assiduously towards achieving the objectives for which the policy measures were approved. "Let us make sure that we do not create a document that we will put on the shelve; let us have a document that we can work with. We don't expect to get a hundred-percent but let us make improvement; the Central Bank has a lot of work to do", the Governor noted.
Members of the CBL Board who participated in the retreat, included Governors D. Sheba Brown; James B. Dennis, A. Richard Dorley; and Timothy E. Thomas. The CBL Board retreat was also attended by the Deputy Governor for Operations, Madam Nyemadi D. Pearson, and the Deputy Governor for Economic Policy, Dr. Musa Dukuly.
For more inquiries contact:
Cyrus W. Badio
Head of Corporate Communications
Central Bank of Liberia
Email: cwbadio@cbl.org.lr