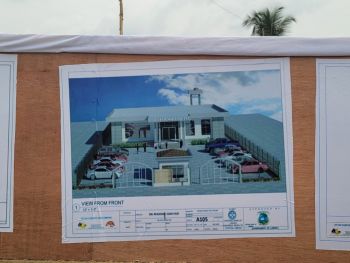 (MONROVIA, February 1, 2021): The Central Bank of Liberia (CBL), Saturday, January 29, broke grounds for the construction of a regional cash hub in Gbarnga, Bong County. CBL Executive Governor, J. Aloysius Tarlue, Jr., said the hub is part of the strategic plan of the CBL to extend its services across the country.
The regional cash hubs, the Executive Governor emphasized, will support the availability of liquidity to commercial bank branches and other regulated financial institutions in the rural parts of the country and enhance the CBL cash distribution capability in the economy and National Payment System infrastructure.
The facility, the CBL Executive Governor also noted will enhance the CBL's capacity to effectively manage its cash circle operations and enhance the efficiency of the handling of cash and cash movement in the rural parts of the country and also serve as CBL's replenishment point, including replacement of mutilated banknotes.
The CBL Executive Governor further disclosed that the hub will facilitate the provision of services to the government and its agencies including revenue collections, salaries payments, etc. "Commercial banks are at the heart of this investment because it will drastically lessen the burden they faced in shipping cash from Monrovia to leeward counties and will drastically reduce the cost of doing business for them", Governor Tarlue stressed. The establishment of the hubs will also help to attract commercial banks to the rural areas with a minimum overhead cost.
Operators of huge cash, such as petrol stations, department stores,merchants, he noted,will also have easy access to their funds at commercial banks, as those banks will now be able to deposit and drawdown on their accounts at the CBL Hub. Mobile money agents, and Cash-in transit companies, he said, will also benefit from the hub. The Gbarnga hub is one of four facilities earmarked for construction across the country.
Each regional cash hub is designed to meet the minimum requirement of a bankable infrastructure equipped with adequate vault systems to ensure maximum security for all assets.
CBL Executive Governor was accompanied to the groundbreaking ceremony by the CBL Deputy Governor for Operations, Madam Nyemadi D. Pearson and other senior staff of the Bank. Local officials who attended the occasion included Bong County Representative Melvin Cole and Superintendent Esther Walker. The two officials thanked the leadership of the CBL and the Government of President George M. Weah, Sr. for the farsightedness in constructing an annex in Gbarnga. They urged the CBL to encourage banks to come to the county to help facilitate banking services and boost local economic activities.
The construction firm, Bittar Construction Company, has, meanwhile, assured the CBL and the public of completing the project in time.
For more inquiries contact:
Cyrus W. Badio
Head of Corporate Communications
Central Bank of Liberia
Email: cwbadio@cbl.org.lr